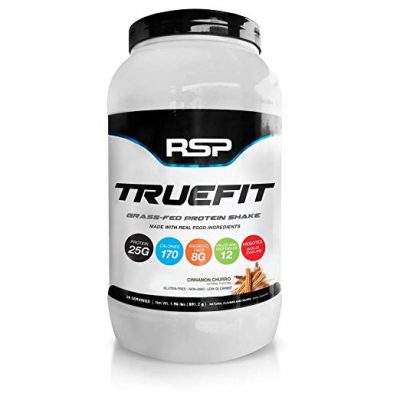 Get your protein fix at a great price today on Amazon! Click here to get RSP TrueFit – Grass-Fed Lean Meal Replacement Protein Shake, All Natural Whey Protein Powder with Fiber & Probiotics, Gluten-Free & No Artificial Sweeteners, 2LB for only $22.99. That's a savings of 28% and you can choose from four different flavors.
*NEW VERSION* ALL NATURAL, GRASS-FED PROTEIN WITH ESSENTIAL AMINO ACIDS – Each serving of RSP TrueFit contains 25g of grass-fed Whey protein, 5g of naturally occurring branched chain amino acids (BCAAs), and 4g of glutamine and glutamic acid, making it a complete source for your meal replacement, post-workout, and protein shake needs.

REAL FOOD MEAL REPLACEMENT WITH WHOLE FOODS – RSP TrueFit is a lean meal replacement shake formulated with the finest real food ingredients. Our comprehensive superfood blend contains 12 Non-GMO Project Verified fruits and vegetables and 16 essential vitamins and minerals, including calcium and vitamin B.

GRASS-FED WHEY FROM PASTURE-RAISED COWS – The Whey protein in RSP TrueFit is sourced from California and Wisconsin farms and is derived from pasture raised cows that are never treated with rBST, rBGH, or other growth hormones.

SUPPORTS HEALTHY DIGESTION WITH PROBIOTICS & ENZYMES – Our comprehensive digestion blend is designed to improve gut health and meet your probiotic needs. This complete protein shake also contains 8g of fiber from sweet potato powder and low-glycemic carb VitaFiber along with 2-4g of healthy fats from naturally occurring Whey & MCT Oil.

NUTRITION ESSENTIALS FOR MEN AND WOMEN – RSP TrueFit is the ideal balance of high quality, all natural protein, fruits and vegetables, dietary fiber, and healthy fats, all in a convenient, delicious grass-fed protein shake supplement ideal for both men and women. Better yet, TrueFit contains no gluten, no artificial colors, flavors, or preservatives, and no maltodextrin.
This post contains affiliate links.