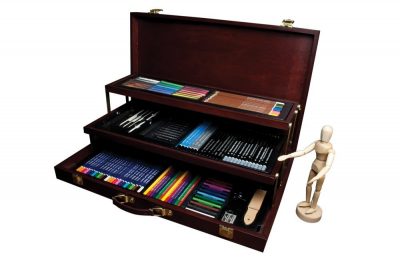 Wow, huge price drop on this Royal & Langnickel Premier Sketching and Drawing Deluxe Art Set, 134-Piece! Get it right now for only $32.47! That's the lowest price ever by far. 
Model RSET-ART8100 is a comprehensive 134-piece collection of quality art materials housed in a beautiful multi-tiered wood case, a super gift.

Includes 24 color pencils, 12 color sticks, 12 woodless color pencil, 3 watercolor sketch pencils, 12 graphite pencils, and 5 woodless graphite pencils.

6 Graphite sticks, 3 charcoal pencils, 3 woodless charcoal pencils, 6 compressed charcoal sticks, 4 vine charcoal, and 12 pastel pencils.

18 Soft pastels, 5 blending stumps, 1 pencil sharpener, 1 knead able eraser, 1 white eraser, 1 sanding block, 1 mannequin, and 1 6in ruler.

1 Sketching and drawing guide and a strong, rich, dark-tone wood case with self-stowing tiers, front closure hasps and leather look handle.
Remember, Amazon prices can change at any time!
This post contains affiliate links.