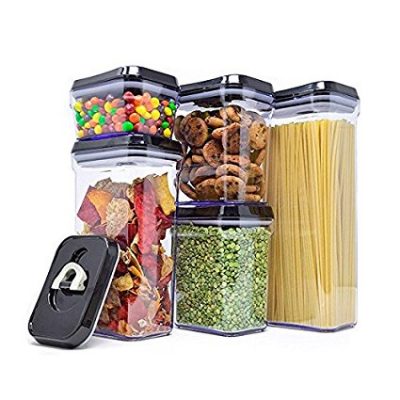 Here's a great set of kitchen storage at a phenomenal price! Today only, get the Royal Air-Tight Food Storage Container Set – 5-Piece Set – Durable Plastic – BPA Free – Clear Plastic with Black Lids for only $23.99. That's a savings of $46!
VERSATILE – Store your favorite foods safely into these efficient containers. With 4 different sizes for edibles of all shapes, sizes, and volumes, you won't have to worry about jamming your edibles into containers. Includes 1 Tall Container (2.0 qt/2.3 liters), 1 Medium Container (1.5 qt./ 1.7 liters), 2 Small Containers (0.9qt/ 1.0 liter), 1 Mini Container (0.35qt/ 0.38 liter)

LIQUID-FRIENDLY – Not only are these good for dry foods, but our containers are great for holding liquids such as water, juice, soup, and more. Container corners allow for easy pouring. Don't worry about spills as the containers are designed to seal all liquids with airtight technology once the handle has been pushed down.

LID-LOCK MECHANISM – Once the ring on the lid is pushed down, the silicone seal inside the lid will expand to seal the jar, creating complete airtightness. Pop the ring back up and it serves as a handle to lift the lid. Provides maximum freshness and prolonged food storage.

EASY TO CLEAN – To clean the Royal Air-Locks thoroughly, simply remove the silicone attached along the lids of each container and wash with soap and rinse with water. Wrap the silicone around the lid again and seal back up to use again.

PREMIUM QUALITY – Made from BPA free plastic, these containers have been tested to be durable and long-lasting. With a stackable and modular design, these containers will save you a ton of space in your pantry and cabinets for better kitchen organization
This post contains affiliate links.