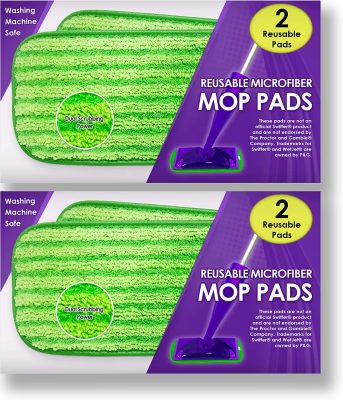 If you're looking for flat, flimsy microfiber mop pads that wear out fast and don't grip dirt, dust and dog hair — then our mop pads are not for you. We focus on quality and functionality — that's why our microfiber mop pads are thicker, built strong to last longer, and have thousands of micro-loops which grip onto dust, dirt, and dog hair like a magnet. Click here for the Reusable Mop Pads Fit Swiffer WetJet – Washable Microfiber Mop Pad Refills by Turbo – 12 Inch Floor Cleaning Pads Fit Both Dry Mops and Wet Jet Mop Heads – 4 Pack for only $21.24 right now!
Microfiber

✓ PREMIUM Professional Grade Reusable Mop Refills Fit Swifter Wet Jet Mops & All 10 11 12 Inch Velcro Fastened Microfiber Mops. Soft Scrub Pads Work On All Types of Floors Including Hard-Wood, Tile, Laminate, Linoleum, and Vinyl.

✓ SAVE MONEY: Disposable Mop Pads End Up Costing Hundreds of Dollars Over The Life Of The Mop. Our Durable Pads Last Longer And Clean Better While Saving Money With Your Power Squirt Mop. Bulk Wholesale Pricing With Exclusive Black Friday Discounts & Cyber Monday Deals!

✓ EXTRA THICK Microfiber Pads For Better Absorption When Wet Mopping And Better Dust Dirt Trapping When Dry. Spray Wash Or Pick Up Pet Hair Effectively!

✓ MACHINE WASHABLE PADS: Wash Eco-Friendly Replacement Pads For Mops With Towel Laundry! Unique Looped Design Is Perfect For Home, Office, Dorm, Apartments, And Schools!

✓ FITS MOST MOPS: Turbo Pads Connect Easily To All Hook & Loop or Velcro Backed Mop Heads. Pads Fit Swiffer Wet Jet Spray Mops and More!
Remember, Amazon prices can change at any time.
This post contains affiliate links.