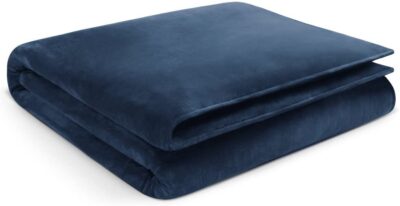 This is an amazing deal for a 20 lb weighted blanket! Click here to get the Restorology Weighted Blanket, 20 lb, 60″ x 80″ for only $41.59. That's by far the lowest price on record! If you want something a little lighter, there's an 18 lb version that's currently going for $43 when you clip the 50% off coupon. I love that this comes with a removable cover!
LUXURIOUS REMOVABLE MINKY COVER – The Restorology Weighted Blanket comes with a soft and therapeutic removable cover made from a high quality Minky material.

DUAL CONSTRUCTION – The removable cover is machine washable for easy care. Simply wash the cover cold on gentle cycle and dry on gentle or air-dry if preferred. The removable cover helps preserve the weighted pellets from wear and tear in the washing machine making sure that the pellets are in great shape for years to come.
Remember, Amazon prices can change at any time.
This post contains affiliate links.