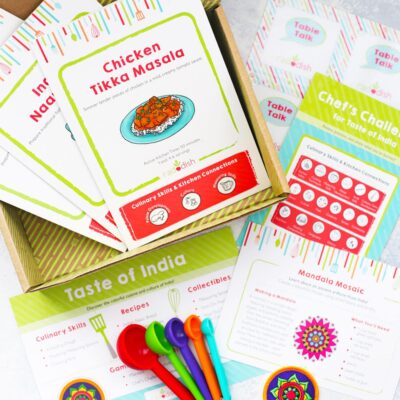 Raddish is a monthly cooking kit for kids ages 4-14+, created with the mission to deliver culinary experiences that nurture kids' confidence in the kitchen and beyond. Raddish is a winning recipe for education, family-time and fun! Kids are encouraged to explore and experience new foods while they learn to chop, sauté, whisk, and measure! Please note a free apron is not included with this monthly subscription. Get your first month for only $12!
A NEW THEME EACH MONTH – Learn about new cultures and cuisines from your kitchen!

EDIBLE EDUCATION – Eat and learn as your kids mix math & simmer science! Build math, science, and life skills as you cook up delicious fun! SCHOOL AND MEALTIME – The kitchen is the tastiest place to learn, start a new family tradition!

3 ILLUSTRATED, LAMINATED, STEP-BY-STEP RECIPE GUIDES – The Raddish kids cooking framework breaks recipes into easy-to-digest steps that kids young and old can follow. Great for emerging readers!

QUALITY KITCHEN TOOLS – Build your own collection of cooking tools designed for the meals you're making. Learn how to use a variety of kitchen tools with our skill builders.

GROCERY LIST AND DIETARY MODIFICATIONS – Gluten-Free, Dairy-Free, Egg-Free, Vegan, Vegetarian modifications customized each month.
This post contains affiliate links.