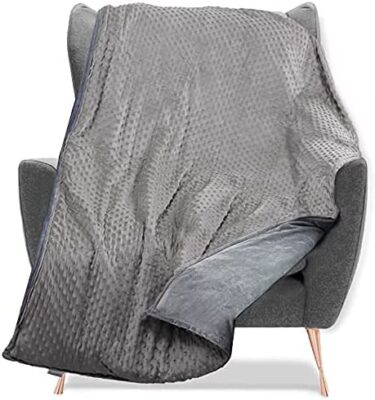 I absolutely adore my weighted blanket and this one looks just like mine! Get this Quility Weighted Blanket for Adults – 15 LB Queen Size Heavy Blanket for Cooling & Heating – 100% Cotton Big Blanket w/ Glass Beads, Machine Washable Blankets – 60″x80″, Grey for only $40.79 when you clip the coupon! That's a whole lot of savings!
100% COTTON – Our adult weighted blanket is made with durable, breathable cotton material and a removable cover that's machine washable for long-lasting use and easy cleaning.

EVEN PRESSURE – The micro glass beads in this heating and cooling weighted blanket are evenly distributed to help promote relaxation as well as temperature control for a great night of sleep.

BETTER SLEEP – These weighted throw blankets for adults offer the warmth and comfort of a big hug. The gentle pressure is designed to reduce tossing and turning while you sleep and increase relaxation.

7 LAYERS OF SOFTNESS – The unique 7-layer design of our thick blanket ensures the highest quality for your peace and tranquility. A great form of relaxation after a long day of work, school, or tiring activity.

CHOOSE YOUR SIZE – Use our weighted blanket weight chart to find the right size for you. We recommend selecting a weight around 10-14% of your body weight. For assistance, please consult the table below.
This post contains affiliate links.