Have you ever bought a water filter that starts out great, but after a few uses becomes painfully slow? We have used – and loved – a PUR pitcher for years, but the last package of filters I bought was a real dud. The filters seemed fine at first, and then suddenly they began filtering at a glacial pace. It was taking literally half a day to fill the pitcher! That just doesn't work for my water-guzzling family.
We've never had this problem before so I decided to put Google on the case and see if I could fix it. Turns out there's a pretty simple solution! Thanks to some wise Amazon reviewers, I learned that a slow filter rate typically means there are water bubbles trapped in the filter. Here's how to get that slow water filter back in working order:
First, put the filter in a large jar filled with water and see if it floats. If it does, you've got air bubbles. Take out the filter and bang it against the sink – not too hard! – a few times. Then put it back in the water. It should sink now. Pop it back in your pitcher and you should be good to go! When I did this, the difference was remarkable. The entire pitcher filled in a matter of minutes, not the hours it was taking before.
If your filter still seems unreasonably lazy, you may have particles or some other material obstructing the filter. Try spraying water directly into the filter to dislodge whatever is in there. That should take care of it.
Now, I don't know why we suddenly got filters with air bubbles after years of trouble-free use, but I'm glad to know I can fix it if it occurs again. A slow water filter seems to be a pretty common complaint so I wanted to share this tip in case it ever happens to you!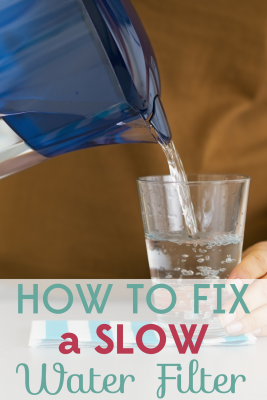 This post contains affiliate links.