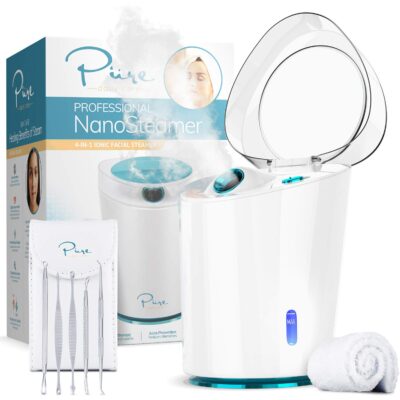 Does your skin need some TLC? Today's deal is just the thing: click here to save on Pure Daily Care Nanosteamer products. Pure Daily Care is a USA based brand that creates cutting-edge skincare & wellness devices. From skin-transforming technology to mood-enhancing aromatherapy, our advanced tools have helped over 1 million customers address concerns like wrinkles, breakouts, and stress with professional grade treatments at home. Get this NanoSteamer PRO Professional 4-in-1 Nano Ionic Facial Steamer for Spas – 30 Min Steam Time – Humidifier – Unclogs Pores – Blackheads – Spa Quality – 5 Piece Stainless Steel Skin Kit Included for only $38.08!
The 3-Step Perfect Skin System with NanoSteamer Pro – NanoSteamer Pro is a 4-in-1 professional device designed for Spas and skin care professionals. NanoSteamer does this by combining a conventional heating element with a new ultra sonic vaporizer to produce nano steam with negatively charged ionic particles. Nano steam combined with ionic water particles are up to 10x more effective in penetrating skin. Follow our patented 3-step perfect skin system in our video for flawless skin every time.

More Powerful & More Features – NanoSteamer Pro produces 3x as much steam as the original NanoSteamer. It also includes a larger water reservoir for longer steam time. A 3X maginifcation mirror is built into the top lid to give you a zoomed view of your facial skin so you can target blackheads and other impurities with more precision.

Cool Mist & Aromatherapy Chamber – A new cool mist function is now included that should be used after your steaming session to help seal cleaned pores immediately. NanoSteamer Pro also includes an all new aromatherapy chamber to add your favorite essential oils for boosted steaming sessions or to simply use as a stand alone aromatherapy device and humidifier.

Professional 5-Piece Skin Kit Included – A Bonus 5 piece stainless steel blackhead and blemish extractor kit is included with every Nanosteamer. This kit includes 5 precise instruments that compliment your Nanosteamer perfectly. Followup your steaming session by using this kit to remove blackheads and blemishes effortlessly for perfect skin after every use.

What's in the Box – 1 NanoSteamer Professional Facial Steamer, 5-piece stainless steel skin kit with storage pouch, Cotton hair band, Power cable, Instruction and support contact manual
This post contains affiliate links.