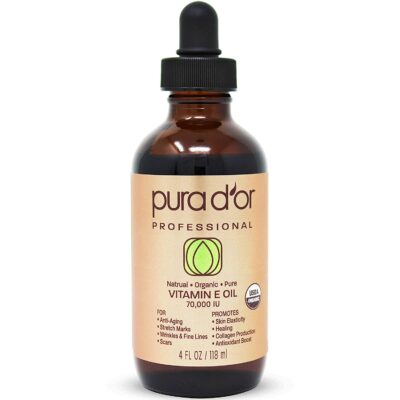 PURA D'OR Vitamin E Oil is going to be your new favorite added oil to your skincare routine. Aside from its nourishing protection to your skin, Vitamin E Oil provides intense nourishment to your skin & face to help reduce skin damage. This includes inflammation, dryness, scars, and stretch marks. It also helps in softening the appearance of wrinkles, fine lines, and other signs of premature aging. Click here for PURA D'OR Organic Vitamin E Oil (4oz / 118mL) 70,000 IU 100% Pure Natural USDA Organic For Skin Face Hexane Free w/Sweet Almond, Apricot, Jojoba, Argan, Rosehip, Sunflower & Avocado Oil For Bath Body, only $9.99.
ULTIMATE SKIN PROTECTION: Help fight free radicals and environmental damage with powerful 70,000 IU Vitamin E oil. Reap all the benefits of multiple oils in a single bottle: from long lasting strength and protection to cleansing and moisturizing properties.

BATHE YOURSELF FOR FLAWLESS, MOISTURIZED SKIN: Can be used as a bath oil before, during and after bathing for smoother and velvety fresh looking skin.

NATURALLY YOUTHFUL SKIN: Dry, unnourished skin will age fast compared to a well-hydrated skin. The combined antioxidants and nutrients provide extreme hydration to the skin to reduce the appearance of signs of aging.

WAKE UP TIRED EYES: Applying Vitamin E Oil around the eye area can lighten under eye dark circles and wake up tired, puffy eyes. Use it for under eye circles along with your regular cream and you will not look tired again.

SATISFACTION GUARANTEE: Healthy skin, happy customers. We offer a Satisfaction Guarantee. If you are unsatisfied with our Vitamin E Oil, let us know and we will give you a FULL refund.
Remember, Amazon prices can change at any time.
This post contains affiliate links.