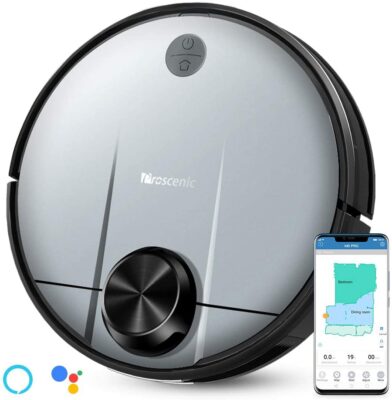 There's another robot vacuum on the scene and it has a ton of features! The Proscenic M6 PRO Wi-Fi Connected Robot Vacuum and Mop, Works with Alexa, Lidar Navigation, Robotic Vacuum Cleaner with Mapping, 2600Pa Strong Suction, Ideal for Pet Hair&Carpets is only $229.99 today!
【Lidar navigation】Upgraded laser navigation system intelligently navigates and maps your home by creating a real-time map of your space and then plans the best cleaning paths. Featuring 24 sensor on the unit, it can easily and efficiently handle complex environments. Not suitable for Proscenic Automatic Dust & Dirt

【Alexa & Google Home & App control】With Alexa and Google Home (Skill Name: ProscenicRobot) you can control the robot vacuum by voice command. With the ProscenicHome app, you can control all that you need: switching between cleaning modes, scheduled cleaning, room specific cleaning, create No-go zones, set specific zones to clean and so forth.

【Recharge and Resume】When the battery level is low, Proscenic M6 PRO robot vacuum will return to charge automatically and starts charging, after the charging process is complete, it returns to the last cleaning position to continue cleaning.

【Excellent mopping function】Thanks to the advanced electric water tank and the programmed water outlet system, the Proscenic M6 PRO robot vacuum cleaner can clean large surfaces, with the water being evenly distributed in the wipe. The robot vacuum cleaner offers 3 cleaning modes: vacuum, Y-shaped mopping, vacuuming and mopping at the same time.

【iRoom Cleaning System】Divided your house map into multiple regions. Innovative system through which you can select specific rooms you want to clean at the scheduled time.
This post contains affiliate links.