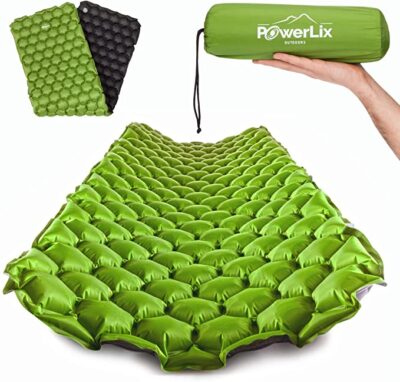 POWERLIX designs and manufactures a myriad of sports & outdoor items for active people, from every corner of the world. Our products aim to address the needs of our customers in their professional and active lives, holistically improving the quality of their lifestyle without slowing them down for a moment! Get the POWERLIX Sleeping Pad – Ultralight Inflatable Sleeping Mat, Ultimate for Camping, Backpacking, Hiking – Airpad, Inflating Bag, Carry Bag, Repair Kit – Compact & Lightweight Air Mattress for only $27.19 today!
Rejuvenate Your Body: Our revolutionary hexagon design is made special with body mapping technology. The hexagon air cells ergonomically support all of your pressure points, giving you superior support and comfort all night long, no matter how you sleep! The mat is also a camping gear must haves luxury, being comfortable yet lightweight. It rolls up small, making it effortless to carry around. The cot comes in a variety of color choices, sure to match anyone's personality.

Live Your Life to the Fullest: It's time to plan a trip! The camp mat cannot be easier to inflate than with our inflating bag. It has a dual action, non-leak air valve, to inflate and deflate the mattress. Being light & small when packed, it won't cause backaches from its weight, and it fits easily in your backpack. Being insulated, it's perfect for the best night of sleep during any type of adventure, whether it be hiking, camping, backpacking, and more, in any weather!

Unique Everlasting Durability: It's the mat of all mats! The Sleeping Pad is made of durable, outdoor grade materials, such as 75D nylon. It includes thermal insulation, to keep your body warm from the cold winter ground. It is 100% waterproof, making it perfect for any outdoor activities. You can say goodbye to sore backs and other discomforts normally left by bumps and rocks underneath the floor of your tent!

Everything You Need for Outdoors: This exclusive item comes with a Sleeping Pad, carry bag, 2 repair kits, and an inflating bag. A patch kit is also included, stitched into the top of the storage bag. The inflating bag was designed with you in mind, for all of your needs. In addition to inflating the mattress, it can be used for several different things, such as a pillow, a waterproof carry or laundry bag, or to carry the sleeping mat itself!

100% Refund/Replacement Warranty: PowerLix guarantees to have your back! We want you to be nothing but happy with your new, top of the line, camping bed! Our professional customer service is therefore here to do whatever it takes to guarantee your satisfaction. That's why your purchase comes backed with our incredible warranty; anytime, any reason, no questions asked!
This post contains affiliate links.