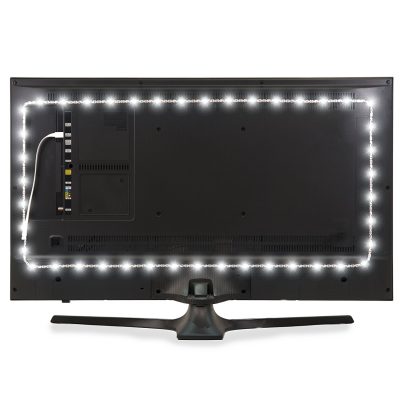 REDUCE EYE STRAIN: Increasing the ambient light in a room prevents our eyes from straining to adjust between a bright screen and dark room, preventing headaches and eye dryness.

IMPROVE CONTRAST: In a dark room, eyes perceive black as shades of gray and colors look washed out. The Luminoodle brightens the room without a screen glare, improving color depth and contrast.

BEAUTIFUL GLOW: These high quality, true white LEDs can turn any TV room into a beatuiful home theater area, adding a comforting glow to the room.

INCLUDES: 157 inch (4m, 13 FT) LED light strip (6000 Kelvin) with 3M adhesive that plugs into your TV's USB port. *Input: 5W (5V, 1A). Please check USB output prior to use.*

1 YEAR WARRANTY: Power Practical offers a one year warranty on all products with friendly, easy to access customer support.
This post contains affiliate links.