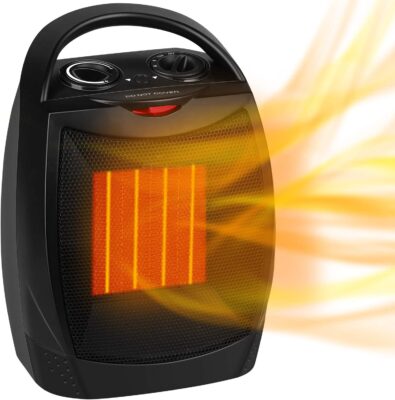 Givebest has always been keeping itself on edge in same category of household appliance, and committing its users to bring home the best service and products, especially the heaters which sharing us the warmth and hope.
Winning the popular reputation from 600,000+ families worldwide, we will strive to keep polishing our brand and providing affordable and quality products to appreciate our loyal users. Click here for the Portable Electric Space Heater, 1500W/750W Ceramic Heater with Thermostat, Heat Up 200 Square Feet in Minutes, Safe and Quiet for Office Room Desk Indoor Use ( Black ), only $25.41.
Easy control heater: Adjust the knob on the right to turn the unit on. "I" is for producing heat at 750 watts, "II" will produce heat faster and hotter at 1500 watts, and "Fan" will blow out cool air. Then turn the thermostat knob on the left toward the + sign. The adjustable temperature range is 0℉ to 158℉. It will get the heater to cycle on and off according to if the room's temperature reaching heater's setting temperature

Energy efficient heater: With PTC ceramic heating tech and high speed fan, this heater put out tons of heater to heat up 200 square feet in seconds. Helps to save electric bills by heating up needed small spaces instead of heating the whole house with other centralized heaters. It's quiet enough to use in a bedroom while sleeping

Portable mini heater: Dimensions: 6.2 x 7 x 9.2 inch, 3.2 pounds light weight mini heater easy to carry around with handle. This 120V heater has 6 feet long cord and 2 prong connection fits for indoors use such as office, room, desk, home, bedroom

Safe room heater: The heater is made of flame retardant material to achieve zero fire hazard. Tip over protection shut off heater when it's knocked over, perfect for houses have kids and pets. Overheat protection will shut heater off automatically when the heater overheat

Long serving life: Tip over swicth, overheat protection, rubber extension cord, flame retardant and ceramic speedy heating and cooling for its steady operation and a long serving life, no extra worry on accidental damage for winter life
This post contains affiliate links.