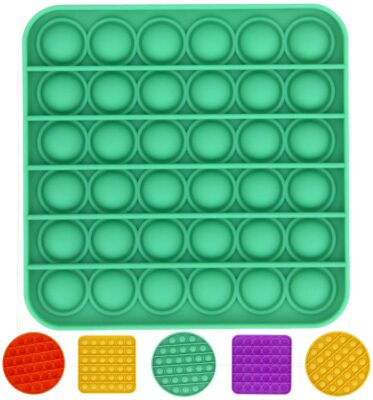 Need all ages toy for stress relieving, sensory activeness, and fun? Try this sensory fidgeting toy and you will be amazed. Everyone loves fun, from kids to the old aged. Popping bubbles is more than fun as it helps relieve stress and activate sensory wellbeing. Portable toy and eligible for use anywhere. Get this Pop Bubble Sensory Fidget Toy – Silicone Push Block Stress Anxiety Reliever Extrusion, Squeeze Toy Homeschool Office for Kids with Autism, Fun Relaxing Popping Toy (Square, Green) for only $4.99!
Endless Fun – Popping the bubble wrap right of the box of a package? The good news is that our bubbles never gets done. Just press the mouse bubbles down and they make a slight popping sound; then flip it over and start again. If this product does not meet your expectations for any reason, we will provide a replacement or refund your money without asking any question.

For all ages – This sensory fidget toy is perfect for people with autism/stress, such as hair pullers, skin pickers, and other sensory seekers. Helps relieve anxiety. This stress fidget is suitable for all kinds of people: the elderly, children, and adults can play.

Made of Silicone Material – This relieves stress toy is made of silicone material, comfortable touch, non-toxic, tasteless. Harmless to humans and pets. Environmental friendly material. If you are an environmentally sensitive person, then this fidget for stress is the toy for you.

Washable – For hygiene purposes, this stress toy is washable making it the best choice for you anytime anywhere. Clean kids' toys regularly to especially for kids who might enjoy biting or chewing them to have fun with the popping sounds.

Great Gift idea – Thinking of the right sensory toy gift for your stressed or autistic kid, friend, or partner? Well, this would make an awesome gift for them. Kids love to pop. For the old, this helps with keeping them active and preventing memory degeneration.
Remember, Amazon prices can change at any time.
This post contains affiliate links.