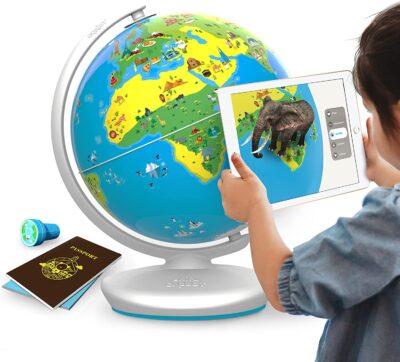 What a cool gift!
An award-winning educational toy, Orboot Earth is a no-borders globe that connects with the fun & interactive Orboot app. (NO BORDERS OR NAMES ON GLOBE)
Explore the world with 400+ highlights and 1000+ cool facts across 6 categories – cultures, cuisines, monuments, inventions, animals and maps (national and state boundaries of countries).
*The box doesn't come with a tablet/smartphone. Get the PlayShifu Educational Globe for Kids – Orboot Earth (Globe + App) Interactive AR World Globe | 400 Wonders, 1000+ Facts | STEM Toy Gifts for Kids 4-10 Years | No Borders, No Names on Orboot Globe for only $43.99!
EARLY LEARNING GLOBE WITH AR: Orboot Earth world globe takes your child on a journey around the Planet Earth. Scan the globe with the companion app to bring it alive and explore the world in different modes inside the app. Full of visual storytelling, music, animal facts and voice interactions, world quizzes, globe puzzles and challenges for ages 4 to 10. (No borders and no names on Globe)

EDUCATIONAL FACTS IN THE ORBOOT APP: Explore 400+ highlights and 1000+ world facts across 6 categories in AR – animals, cultures, monuments, inventions, maps and cuisines of the world. Learn about the food chain and balance the ecosystem of your national park, go on scavenger hunts around the world, and take part in fun quizzes for every category

CHECK YOUR DEVICE COMPATIBILITY: This smart globe works with the free Orboot app that can be downloaded from the App Store or Play Store on your device (no in-app purchases required). Compatible with – iPad 5th gen & above, iPad Air all models, iPad Pro All models, iPad Mini 2 & above, iPhone 6 & above; Android 3GB RAM and above. Amazon Fire devices are currently not supported

GLOBE + PASSPORT WITH FUN STICKERS (DEVICE NOT INCLUDED): The box comes with a 10" globe, passport, stamps, country flag stickers, and a detailed help guide. Orboot Earth is an interactive learning globe for kids with an immersive AR experience

STEM TOY GLOBE FOR AGES 4 TO 10: A perfect early learning globe for the ever-curious kids that sparks their imagination and curiosity. It helps build geography, environmental science, general knowledge, social science, and cultural sensitivity. If you are looking for an educational kid globe and a unique gift, Orboot Earth is the answer! It is also a great homeschooling and a classroom learning supplement
This post contains affiliate links.