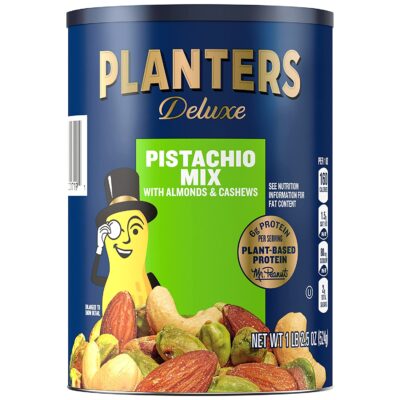 This Planters Deluxe Pistachio Mix is a savory and delicious snack that the whole family can enjoy together. The blend combines salted pistachios with almonds and cashews, for an excellent balance of flavors and textures. Use the mixed nuts as an appetizer at parties, pack some in a bag for your next road trip, or simply set out a bowl on the table to munch on throughout the day. Crunchy and Filling Snack – The Planters pistachio mix is a safe choice for people who are keeping kosher. Great for everyday snacking at work or on the go, the nuts come in a convenient resealable can. Each serving contains plenty of healthy fats and protein, helping you stay full throughout the day. Get the PLANTERS Deluxe Pistachio Mix, 1.15 lb. Resealable Canister – Deluxe Pistachio Mix: Pistachios, Almonds & Cashews Roasted in Peanut Oil with Sea Salt – Kosher, Savory Snack for only $9.09!
DELUXE PISTACHIO MIX: Snack smart with PLANTERS Deluxe Pistachio Mix. The mixed nut snack has a satisfying rich taste and contains a mix of pistachios, almonds and cashews

PLANTERS NUTS: This 18.5 ounce resealable canister of PLANTERS Deluxe Pistachio Mix contains about eighteen 1 ounce servings and features a resealable lid designed to lock in long-lasting freshness

ROASTED MIXED NUTS: These mixed nuts have been roasted in peanut oil for a crunchy texture

MIXED NUTS: Seasoned with sea salt to bring out the nuts' delicious nutty flavor for a satisfying snack

NUTRIENT DENSE SNACKS: This pistachio lover's mix is a good source of essential nutrients and a good source of fiber with 13 grams of total fat per serving

KOSHER CERTIFIED MIXED NUTS: PLANTERS Deluxe Pistachio Mix is a great tasting snack for those keeping Kosher

PLANTERS MIXED NUTS: Nuttin' beats PLANTERS mixed nuts. Enjoy at home as movie snacks or game day snacks, packed in your lunch or as a quick and satisfying snack when you're on the go—they also make a great holiday gift, birthday gift or stocking stuffer
Remember, Amazon prices can change at any time.
This post contains affiliate links.