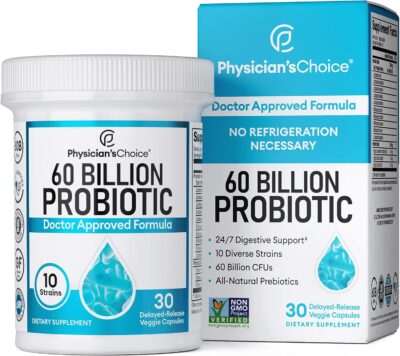 Say goodbye to discomfort and bloating. Our 16 enzyme blend helps you regain control and embrace a comfortable digestive experience! We empower you with the products and knowledge you need to live life better every day, making the confident choice the easy choice. Click here for the Physician's CHOICE Probiotics 60 Billion CFU – 10 Strains + Organic Prebiotics – Digestive & Gut Health – Supports Occasional Constipation, Diarrhea, Gas & Bloating – Probiotics For Women & Men – 30ct, only $19.77!
Max Strength General Purpose Probiotic: Our non-refrigerated probiotic is designed to support digestive health & gut health. A great choice for those looking to support a diverse healthy microbiome w/ 60B CFU – Probiotics for Women & Men alike

Support Your Gut: Our probiotic contains 10 diverse high-quality probiotic strains and organic prebiotics – synergistically working together to support your gut health. Expertly crafted to support occasional constipation, diarrhea, gas & bloating!

Survives the Gut: From start to finish – this probiotic is designed to survive the gut & maximize the colonization of our strains. We use a shelf-stable bottle, acid-resistant capsules, and 60 Billion Colony forming units (CFU) to achieve this!

Backed By Science – Our probiotics are crafted based on scientific research. We have partnered with a network of expert physicians to help review our products & research. We strive to educate & help you with informed decisions regarding your health.

Non-GMO & Sustainable – We are Non-GMO Certified, and participate in the Carbon Fund program – which means for this probiotic, all associated carbon emissions are offset with reduction projects. Always with Science-Backed Quality Ingredients!
Remember, Amazon prices can change at any time.
This post contains affiliate links.