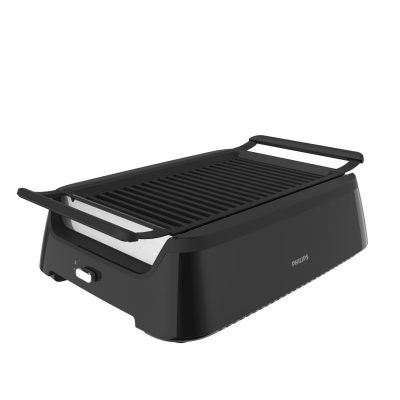 This will solve your dinner conundrums! The Philips Smoke-less Indoor Grill was made so that you can enjoy more of the great grilled food indoors in a more clean and pleasant way. This grill works by means of advanced infrared heating technology, which cooks your food perfectly while reducing the amount of smoke and oil splattering caused by burning fat. Today only, get the Philips Indoor Smoke-less Grill plus Bonus Cleaning Tool, HD6371/98 for only $149.99. That's a savings of 46%!
Advanced infrared technology and special reflectors guide heat to the grid for delicious, evenly grilled food. The drip tray underneath remains cool so there is virtually no smoke.

No need to adjust the heat! the grill quickly heats up to a consistent 446 DegreeF, the optimal temperature for searing meat, leaving it juicy and tender on the inside.

Heats up in 6 minutes so you can get cooking faster.

Clean up in less than a minute! either wipe the grid clean or place it in the dishwasher. Cleaning a grill has never been easier.

This exclusive Amazon bundle includes a ceramic scraper for easy cleaning of the interior reflectors
This post contains affiliate links.