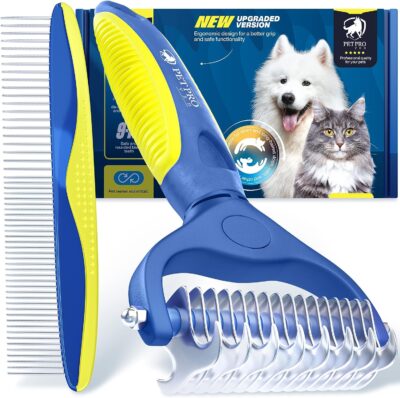 If you have furry friends, you know the shedding struggle is real! Help yourself out with the PetProved Undercoat Rake. Clip the 50% off coupon to get it for just $4.99!
Immediate results just with a few swipes: start brushing your pet regularly with PetProved dog brush for shedding and see immediate results! Start gliding the dematting comb for cats from top towards the tail and notice how all shedding undercoat is grabbed between the teeth. Your pet's coat will be sleek and combed as all the mats and shedding undercoat are removed.

Advanced 9-17 teeth shape with protection: with rounded tips and inner sharp blades your pet's shedding coat is removed efficiently and safely. The rounded tips provide a soft massage-feeling and have a safe contact with the skin. The sharp blades reach only the mats and shedding coat and grab them between the teeth. Your PetProved dematting tool for dogs made with safety and effectiveness on mind!

Non-slip silicone handle and stainless-steel teeth: PetProved undercoat brush for dogs and metal comb set is made with non-slip handle to ensure strong and comfortable grip. Stainless-steel teeth are protected from rusting and dulling. And the added metal comb to the set is ideal for finishing touches after the brushing session. Get the most with PetProved dog dematting tools set!

Healthy coat and reduced shedding: regular brushing stimulate blood circulation that strengthen hair follicles and distribute hair oils that enhance the coat condition. Prevent matting, reduce shedding, and minimise pet hair at home with only one de-matting and de-shedding tool!

Excellent for medium and long coats: if your pet feels uncomfortable and irritated because of the mats and/or shedding undercoat – PetProved 9-17 dog deshedding brush is definitely for you! Make your pet feel the best in his own coat with PetProved!
Remember, Amazon prices can change at any time.
This post contains affiliate links.