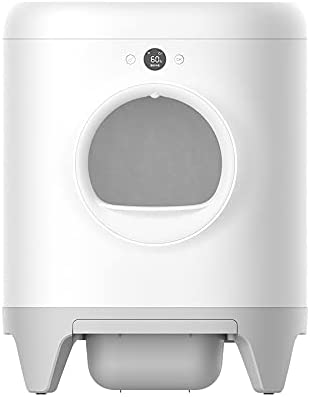 Cat owners, this is what you've been waiting for! Today only, get the PETKIT Pura X Self-Cleaning Cat Litter Box xSecure/Odor Removal/APP Control Automatic Cat Littler Box for Multiple Cats for only $452. That's a savings of $147!
xSecure: Thermal sensor, infrared sensor, weight sensor, anti-pinch infrared sensors, smart detection, remote alerts, accident protection system.

Compatible with multiple cat litters: Special designed filter fits both plant litters and bentonite litters. And all other kinds of cat litters (except CRYSTAL CAT LITTERS).

Odor removal: Independently researched and developed purifying liquid removes unpleasant odors and formaldehyde. No unpleasant smell.

Two modes avaliable: Auto-cleaning Mode/ Scheduled-cleaning Mode. Remote control and data monitoring through PETKIT App.

Product Dimensions: 19.84*20.94 *25.42 inch,Fits for cats below 18lbs. Entrance diameter measurement: 8.66 inch. Suggested max cat litter capacity in cylinder box: 5L,Waste collection bin: 7L.

NOTE: In terms of clumping, Pine isn't as strong as other all-natural cat litters we've tried. It does form clumps that can be scooped with a regular litter scoop, but they may not stay together as well as other plant, clay and bentonite litter clumps. We recommend using PETKIT EVERCLEAN FLUSHABLE CAT LITTERS.

OLED display screen makes it easy to check the status and data of PURA X.
This post contains affiliate links.