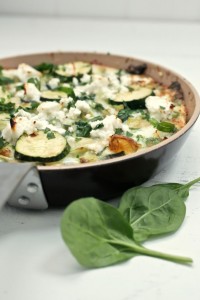 Don't like to cook during the warmer summer months? Me neither! Teresa Cutter, Australia's most prominent celebrity chef and international bestselling author knows something about wanting to keep it simple when it comes to cooking in the summer heat. As a chef who prefers healthy, clean, and easy cooking in general, here are her favorite summer recipes.
Now, making dinner in the summer heat is a cinch
Egg White and Greens Frittata – full recipe below
All of these recipes are perfectly light for the warmer summer months.
Here is the full recipe for Egg White and Greens Frittata
Cutter says: I often make this egg white and greens frittata for quick dinner or weekend brunch after a workout. This is the perfect clean and healthy meal. It's quick and easy to make and you just feel fantastic after eating it. If I'm extra hungry I'll enjoy  this with green salad or extra steamed vegetables topped with parsley, lemon and mint salsa verde.
What's good about it
Egg contains all the essential amino acids your body needs to nourish muscle and provide optimum health.  They have no fat or cholesterol and are very low in calories so you can enjoy them freely as part of your healthy diet. The green veggies are loaded with easily digestible nutrients  to protect against disease and illness and the aim is to try and incorporate a variety into your diet every day.
Serves 2
Time it takes: 30 – 35 minutes
300 g / 10  1/5 oz  leek, sliced (about 1 large)
2 zucchini, chopped
4 spring onions, sliced
pinch sea salt and a little white pepper
80 g  spinach, washed and chopped
2 tablespoons chopped parsley
10 free range organic egg whites or 5 whole organic eggs
80 g Persian feta
Preheat your oven to 180 C / 350 F.
Saute the leek in a pan with 1 teaspoon olive oil over a low – medium heat until soft.
Add the zucchini followed by the spring onion and cook for another few minutes.
Add the spinach then season with a little salt and white pepper.
Throw in the parsley and remove from the heat.
Arrange the green vegetables into a 20 cm pan / skillet.  Or into individual lined muffin cups.
Pour over the egg whites and mix through the vegetables gently.
Add feta then pop into the hot oven.
Cook for 20  minutes or until set and golden.
Serve warm or cold.
Enjoy.
About Teresa Cutter
Cutter is one of Australia¹s leading authorities on healthy cooking and the CEO of The Healthy Chef. A nutritionist and a classically French-trained chef, her natural talent and passion for food was rewarded early in her career winning Apprentice Of The Year two years running, followed by a Gold Medal at the Salon Cullinare.
Cutter is the author of four cookbooks (and one international bestseller): The Anti-Aging Cookbook, Fit Food, The 80/20 Diet, and 101 Ways to Lose Weight. Cutter is currently working on 2 more cookbooks due for release later this year. She writes healthy recipes for the Sydney Morning Herald, as well as Women¹s Fitness, Men¹s Fitness, Men's Health, Australian Doctor and has a solid grounding as a TV celebrity chef appearing on live TV and numerous cooking segments.
I can't wait to try some of her recipes. What looks good to you?