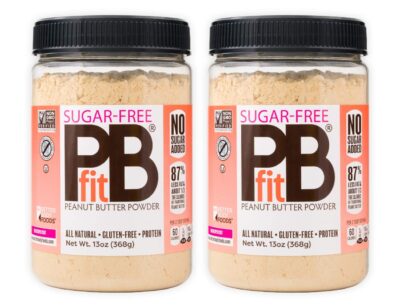 Click here to snag PBfit Sugar-Free Peanut Butter Powder, 13 Ounce (Pack of 2) for only $10.92. That's the best price on record! This powder can be used for tons of healthy recipes including cookies, smoothies, oatmeal and more.

SAME GREAT TASTE: Introducing PBfit that is sugar-free! Now, you can get the great benefits of PBfit with no added sugar! We use a naturally sweet monk fruit blend to give PBfit Sugar-Free a similar flavor to PBfit Original.

SIMPLE INGREDIENTS: PBfit Sugar-Free is made with 3 simple ingredients: peanut flour, monk fruit blend (erythritol and monk fruit extract), and salt. Did we mention it's all-natural and gluten-free?

DELICIOUSNESS DEFINED: For a delicious, reduced-fat peanut butter spread, mix 2 tbsp. of dry PBfit Sugar-Free with 1.5 tbsp. water. Stir until smooth, and spread anywhere you would put regular peanut butter!

PROTEIN POWER: With 8g of protein in one serving of PBfit Sugar-Free, you can get a boost of protein right after your workout at the gym. Try adding it to the protein powder you already use or add it in your morning smoothie for a delicious protein boost. Great for men and women.

BLEND, BAKE, OR SHAKE: When it comes to the uses for PBfit, the possibilities are endless! Mix into baked goods like bread, pancakes, waffles, and cookies to add a great peanut butter flavor. You can also blend it into breakfast smoothies and other drinks for a tasty, low-fat protein boost after the gym! Great for men and women!
This post contains affiliate links.