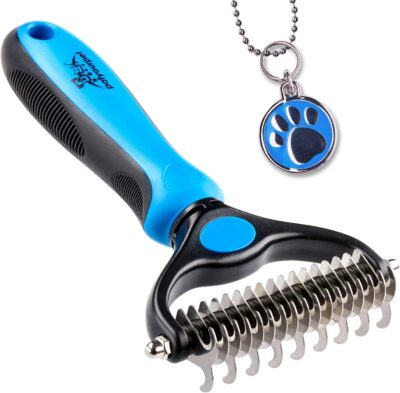 Pat Your Pet was started by a pair of pet lovers who shared the belief that pets deserve safe and soothing care so they can be both happy and well-groomed. Today, we offer pet rakes and gloves so you can keep your pet's coat healthy while they explore their world. Get this highly rated Pat Your Pet Deshedding Brush – Double-Sided Undercoat Rake for Dogs & Cats – Shedding Comb and Dematting Tool for Grooming, only $8.62 today!
Dual-Head Design: 2 sides, 2 coats, 1 tool! Use the 9-teeth side of this dog and cat brush for smooth dematting, and the 17-teeth side for quick coat thinning and deshedding.

Skin Safe: Pamper your pet – pain-free! The teeth on this dog brush for shedding are rounded to make sure your furry friend's skin is protected.

This deshedding brush is perfect for cats and dogs with thick, long fur – but it's great for coats of all kinds! Long lasting and durable pet comb that works great even on horses.

Easy Grip Handle: Get even the nastiest knots out with ease! Our dog and cat brush for shedding has a non-slip handle to give you a firm and comfortable grip.

Comes with a "paw tag" for your keychain or pet collar!
This post contains affiliate links.