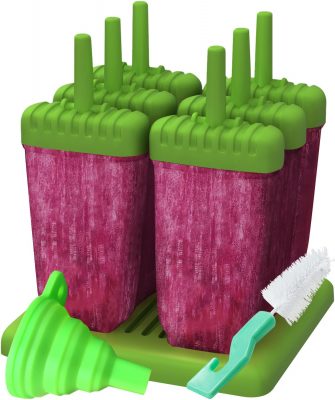 We've already hit the 100° mark here in the Deep South, so I'm expecting this to be a scorcher of a summer! We love making popsicles from leftover smoothies or just juice! You can make them as healthy as you like! Right now, get the Ozera Popsicle Molds Maker, Reusable Ice Pop Molds Trays for Homemade Popsicles – Set of 6  for only $6.79.
Durable: These ice lolly moulds are made of durable high quality plastic, can be used again and again in the freezer for years to come, reducing waste.

Easy to Store: OZERA set of six ice pop molds include a popsicle molds base, which measured in 6″ x 5.5″ x 8″. So that you can place these ice cubes neatly in the refrigerator.

Unique Design: Ice pop maker designed for easy removal, and popsicles can store individually in the freezer to save space. And the smartly designed shape make it easy for frozen pop to slide out of mold.

Easy to Use: Our popsicle maker is designed for easy to use and clean, totally non-stick. They are good for freezing juices and other ingredients, such as purees, yogurt, gelatin, fruit, ice cream, pudding, jams and jellies and more.

100% Money Back Guarantee: We take pride in delivering top quality products. If you are not 100% completely satisfied with our popsicle trays, simply let us know and you will be offered a 100% hassle free refund guarantee or replacement.
This post contains affiliate links.