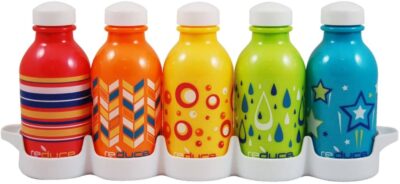 More convenience, less waste! Today only, save over 20% off on Reduce drinkware. You'll find stainless steel options for adults and more bottles for kids here. This Reduce WaterWeek Classic Reusable Water Bottles, 10oz – Includes 5 Refillable Water Bottles Plus Fridge Tray For Your Water Bottle Set – BPA Free, Leak Proof Cap – Perfect for To-Go Lunch Boxes is only $11.19 today!
DITCH THE DISPOSABLES, KIDS – The Reduce kids water bottle set includes 5 x 10oz refillable water bottles. Save money, keep little ones hydrated and reduce waste. A sustainable alternative to single-use plastic bottles

FILL, CHILL AND GO – Fill each 10 oz water bottle with water or juice and screw on the leak-free cap. Store in the refrigerator to chill, and then grab and go. A handy fridge tray for organization of each reusable bottle is included

SAFE, DURABLE AND EASY-CARE – Super convenient, the plastic water bottle construction ensures they are long wearing and withstand damage from drops, unlike a glass water bottle. Each dishwasher safe bottle is easy to clean

WATER BOTTLE PACK WITH PERSONALITY – The small water bottles for kids are streamlined in shape and perfect for small hands to hold. Features an assortment of bright colors and patterns that will make little ones want to drink their water

CONVENIENT HYDRATION – Reduce water bottles are an ideal to-go option for keeping your family hydrated at school, in the classroom and on the road. Pack them in lunchboxes, backpacks and sports bags
This post contains affiliate links.