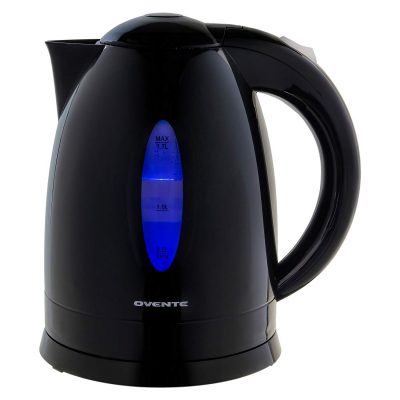 Enjoy the cleanest, freshest drinking water in a flashThe Ovente KP72 Series is an attractive, easy-to-use electric kettle that looks great on any kitchen countertop. With 1.7 liter water capacity and 1100-Watts of power, this handy tool can quickly bring water to a rolling boil in less than 6 minutes (at maximum level). In a matter of minutes, hot water will be ready to use for instant coffee, tea, hot cereal, instant macaroni or oatmeal. Get the Ovente Electric Kettle, Illuminated, Black for only $14.99 right now. 
FAST & ECO-FRIENDLY – The Ovente BPA-Free Plastic Cordless Electric Kettle with Stainless Steel Interior boasts 120V, 1100-Watt power and a 1.7-Liter capacity that boils water faster while using far less energy than stovetop kettles.

PURE, CLEAN WATER – A concealed heating element prolongs the kettle's life compared to an exposed heating element which deteriorates faster. It also maintains an attractive aesthetic and keeps harmful metallic chemicals away from your drinking water.

EXTRA SAFE – It features Automatic Shut-Off and Boil-Dry Protection Technology to prevent accidents. Its ergonomically-designed handle stays cool, making filling and pouring of water safe and fool-proof.

EASY TO CLEAN – Removable/washable spout filter guarantees that you'll always get the freshest, cleanest results. To deep clean, simply mix 3 tbsp vinegar or lemon with water, boil, then let sit for a minimum of 5 hours.

COLORFUL, ATTRACTIVE, PRECISE – The Ovente KP72 Series comes in a variety of eye-catching colors: Baby Pink, Green, Brown, Pink, and White. It also features an blue on/off LED light indicator and a clear water level gauge for precise measurements.
Remember, Amazon prices can change at any time.
This post contains affiliate links.