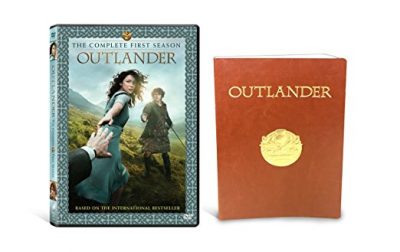 Amazon's Deal of the Day is Outlander Season One 4 Disc Set with Bonus Gift for only $21.99.  With this bargain bundle you'll receive an embossed leather journal and save $18 off the listed price! Check out the riveting story line that makes this show so incredibly popular:
British combat nurse Claire Randall is reunited with her husband after returning from the battlefields of World War II. While on their second honeymoon, she walks through one of the ancient stone circles that dot the British Isles and is suddenly transported to 1743 Scotland, torn by war and rogue Highland clans. Hurled back in time by forces she cannot understand, Claire is catapulted into intrigue and danger when she is accused of being a spy. Forced by circumstance to marry an outlawed Highlander, she finds herself falling in love and torn by her loyalties to two men in vastly different times, all of which may threaten her life and shatter her heart. Diana Gabaldon's best-selling book series is stunningly realized by Executive Producer Ronald D. Moore in Season One's first eight episodes.
This post contains affiliate links.