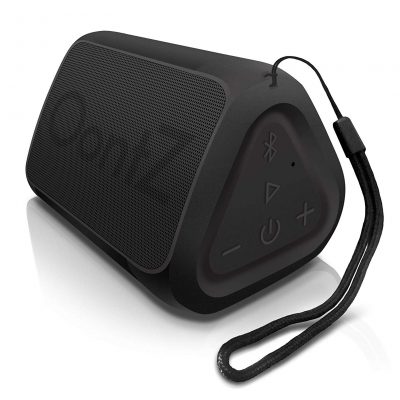 The oontz angle solo is a super portable Bluetooth speaker, that delivers sound beyond its compact size, with surprisingly loud volume and bass output. Featuring a wireless Bluetooth range of up to 100 unobstructed feet, up to 10 hours of playtime from a full charge and IPX5 splash proof design makes the perfect travel and home speaker. Get the OontZ Angle 3 Solo : Super Portable Bluetooth Speaker for only $15.99 today. 
SURPRISINGLY LOUD VOLUME – 5 watts of power with custom OontZ solo neodymium driver delivers full range sound

BASS BEYOND ITS SIZE – Proprietary Passive Bass Radiator Design delivers surprising Bass output from such a compact design

WATER RESISTANT IPX5 – Splashproof, rainproof, dustproof, outdoor travel speaker speaker, perfect for the beach, poolside, golf cart; IPX5 rating speaker can resist gentle water spray & splash but cannot be partially or fully submerged

100 FOOT BLUETOOTH RANGE – Play up to 100 feet away from your device; our advanced antenna design with Bluetooth 4.2 provides fast connection and incredible wireless Bluetooth range of up to 100 unobstructed feet from your iPhone, iPad, iPod, Mac, Samsung Smartphones, Smartphones, Tablets, Laptops, Computers, Chromebooks; works great with Amazon Echo Dot and Amazon Echo

STYLISH SUPER LIGHTWEIGHT – Under 8 Ounces, Super compact 3.9 inches long and 2.8 inches tall ounces, built in rechargeable battery for up to 10 hours of playtime at 2/3 volume – Perfect on the Go Travel Speaker; BUILT-IN MIC for handsfree speakerphone calls from Smartphones and iPhones; includes Micro-USB charging cable and Lanyard; AUX-In capability to play non-Bluetooth devices; Comes with a Micro USB Charging cable
This post contains affiliate links.