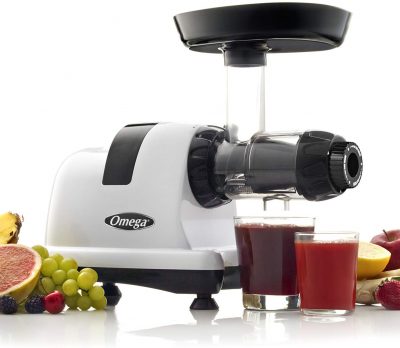 Feeding your body the nutrients it craves can help reduce binging on high fat high sugar foods, helping you lose weight and stay healthy.
This heavy-duty nutrition system features a patented, stone mill-like auger, made of hygienic U.S. FDA-approved melamine. The low speed of 80 RPMs ensures full taste and the highest nutritional value.
Today only, get the Omega J8006HDS Nutrition Center Quiet Dual-Stage Slow Speed Masticating Juice for only $199.99! That's a savings of $120.
INDUSTRY LEADING 15-YEAR covering parts and performance

LONGER LASTING JUICES: Using a low speed of 80 RPMs results in minimal heat buildup and oxidation promoting healthy enzymes

HEALTHY & DELICIOUS JUICES: Extracts the maximum amount of nutrients, vitamins, taste and juice from minimum amounts of fruits, vegetables, leafy greens, and wheatgrass

NUTRITION CENTER: Turn nuts into nut butter, extrude pasta, grind Coffee and spices, mince herbs and garlic, make baby food and frozen desserts, and whip up soy milk in a flash

FEATURES: High juice yield with very dry pulp, an automatic pulp-ejection function for continuous juicing, four stabilizing feet, and quiet operation

HIGHLIGHTS: The adjustable end cap has 5-settings for maximum juice output and extraction. Enjoy continuous juicing.

OMEGA POWER: Powerful motor dual-stage juicing system ensures maximum efficiency
This post contains affiliate links.