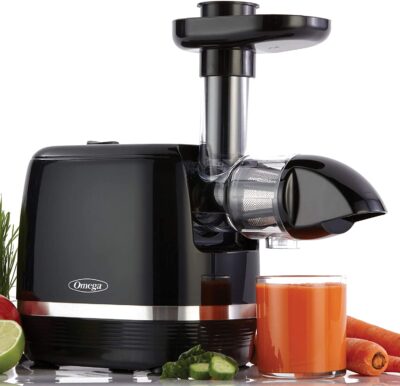 Juicing Just Got Easier and More Affordable Than Ever! Omega's H3000D Horizontal Cold Press 365 Slow Juicer is perfect for juicing fruits, vegetables and leafy greens! Because the auger juices at a slower 90-110 RPM, the essential vitamins, enzymes and nutrients of the produce are preserved. This slow juicer ensures minimal oxidation, heat build up, foaming and clogging!  Today only, score this Omega H3000D Cold Press 365 Juicer Slow Masticating Extractor Creates Delicious Fruit Vegetable and Leafy Green High Juice Yield and Preserves Nutritional Value, 150-Watt, Black for only $99.99.
HEALTHY AND DELICIOUS JUICES – Extracts the maximum amount of nutrients, vitamins, taste and juice from minimum amounts of celery, carrots, leafy greens and other fruits, vegetables, or wheatgrass. The juicing possibilities are endless!

BOOST YOUR IMMUNITY – Cold press juicing is one of the most effective ways to easily access nutritious enzymes and antioxidants that boost immunity and enhance overall health.

DESIGN – The compact and sleek design of this juicer will not only save counter space but will also look great on your kitchen counter! The H3000D puts out less noise when juicing compared to high speed juicers and blenders. No more waking up the family early in the morning!

HIGHER NUTRITIONAL VALUE – Masticating juicers like the Omega Cold Press 365 use a gentle combination of high power and low speed of 90-110 RPM, exposing the foods to less oxygen which preserves enzyme and nutrient strength and yields higher nutritional value overall.

NUTRITIONAL INTEGRITY – The slow juicing process gently presses ingredients minimizing heat buildup so the enzymes and antioxidants in the food are not destroyed.

EASY TO USE AND CLEAN – Enjoy continuous juicing with no hassle cleaning, just a quick rinse or place in the dishwasher.

EXCLUSIVE – Dual Stage masticating extraction
This post contains affiliate links.