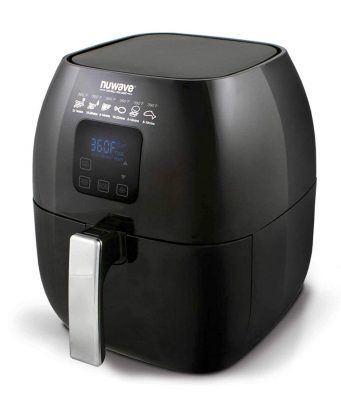 Oil is a thing of the past, and air fryers are here to step up to the plate. Air frying makes scrumptious foods similar to those of a deep fryer, but the result is often much healthier regarding fat and calories. Fried foods are a guilty pleasure for many. Eliminate the guilt and continue enjoying delicious fried foods the new way, with this NuWave Brio Air Fryer, only $69.99 today. That's a savings of $30 off the listed price.
Air Frying – The Healthier Way: Makes scrumptious fried foods that taste the way they should, without the oily mess

Even Heat Distribution: Hot air combined with high-speed air circulation cooks your favorite foods evenly and quickly

Temperature Control: 100F to 390F temperature range in five-degree increments

Digital "touch-pad" LED controls ensures precise temperature and time

Built in safety control prevents unit from operating unless basket is in place

ETL listed; 1-year Limited Manufacturer's Warranty
This post contains affiliate links.