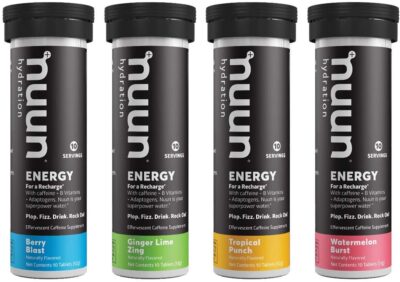 For a lasting lift, drink Nuun Energy. Whether you're looking for a clean coffee alternative or some extra oomph! On your outdoor adventures, Nuun Energy delivers the energy you want, plus hydrating electrolytes, 20mg of Panax Ginseng, and a blend of B vitamins. Toss the convenient tube in your bag and enjoy a tasty glass of extra energy anytime, anywhere. When you need a boost just add one Nuun Energy tablet to 16oz of water, let dissolve, and drink up! Nuun Energy gives you a lasting lift in a clean and convenient product. Get Nuun Energy: Caffeine, B Vitamins, Ginseng, Electrolyte Drink Tablets, Mixed Flavors, 40 Count for only $17!
Nuun Energy is an effervescent energizing drink tablet that invigorates body and mind with organic Green Tea extract, electrolytes, and a blend of Panax Ginseng and B vitamins.

This pack contains 4 tubes of Nuun Energy, one of each flavor (berry Blast, ginger lime zing, tropical Punch, Watermelon burst). each tube of Nuun Energy contains 10 individual servings.

Nuun Energy is gluten free, Soy Free, Dairy Free, Vegan, Kosher, non-GMO certified and made with plant-based ingredients-just like all Nuun products

Nuun Energy contains 80mg of caffeine made with organic Green Tea extract, 20mg of Panax Ginseng, and a blend of vitamins B12, B6, & B5. Plus, 5 different hydrating electrolytes

A clean ingredient alternative to the typical energy drink, Nuun Energy contains only 2g of sugar and no artificial ingredients, flavors, or colors.

Remember, Amazon prices can change at any time.
This post contains affiliate links.