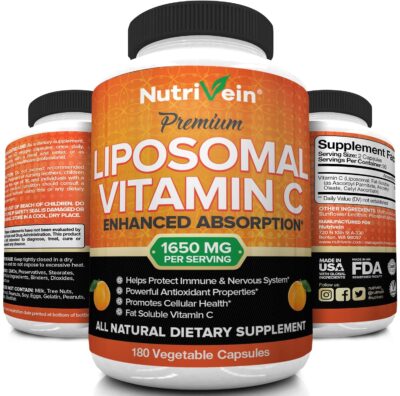 The benefits of vitamin C don't stop at the immune system- when taken in adequate amounts this diverse nutrient provides outstanding benefits for your entire body! The Liposomal formula provides nutritional nourishment with the highest leading potency of Liposomal Vitamin C available in a supplement. Click here to snag Nutrivein Liposomal Vitamin C 1650mg – 180 Capsules – High Absorption Ascorbic Acid – Supports Immune System and Collagen Booster – Powerful Antioxidant High Dose Fat Soluble Supplement for only $10.42.
✔ HIGHEST AVAILABLE VITAMIN C FORMULA – Nutrivein Liposomal Vitamin C enhanced formula contains 1650 mg of Liposomal Vitamin C per serving. With 180 vegetable capsules in each bottle for a full 90 day supply, our brand boasts the highest leading potency of Liposomal Vitamin C found on the market today. Utilizing the phospholipid sunflower lecithin to create liposomes helps the body more effectively absorb the vitamin C in our complex. Phosphatidylcholine helps to ensure superior absorption.

✔ IMMUNE SYSTEM SUPPORT & FAT SOLUBLE VITAMIN C – Our vitamin c supplement is supportive of the immune system. Avoid having to take sick days off from work by taking these pills daily as a defense against getting sick. Our powerful combination of sunflower phospholipids (building blocks of cell membranes) and Vitamin C, creates the best antioxidant supplements that neutralize harmful free radicals caused by stress.

✔ GROUNDBREAKING HEALTH BENEFITS: Vitamin C (ascorbic acid) contains powerful antioxidant properties & helps protect against free radical damage. It supports the immune system, supports healthy brain function & cognition, supports cardiovascular & heart health, supports blood circulation, helps improve mood, contains anti-aging properties such as minimizing wrinkles, supports bone density, helps decrease muscle soreness, and helps increase absorption of calcium & iron.

✔ HEALTHY LIFESTYLE – Our advanced Liposomal Vit C formula is non-gmo, soy-free, gluten-free and dairy-free and is a Vitamin C formula based on Liposomal technology. It uses ascorbic acid & palmitic acid to create Ascorbyl palmitate (fat-soluble form of Vitamin C). When combined with a phospholipid such as sunflower lecithin (which is also part of the formula), the capsule creates a liposomal environment which allows for exceptional absorption and better health benefits.

✔ TRUSTED BRAND – Satisfaction Assured: If our Liposomal C Supplements do not bring noticeable value to you and you don't absolutely love them, your purchase is on us; No Questions Asked; Our world-class customer service wants you to be satisfied with your purchase; Absolutely no risk; The bottle comes with the Nutrivein Satisfaction Pledge for 30 days; Have this supplement and health protector by your side
Remember, Amazon prices can change at any time.
This post contains affiliate links.