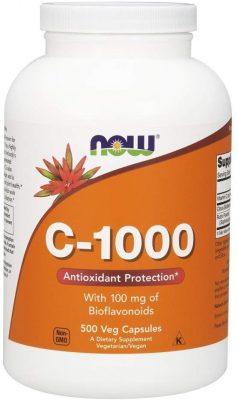 It's time to boost your immune system! Vitamin C is an essential nutrient well known for its vital role supporting the immune system.* It is a highly effective antioxidant that can protect the body's structures from oxidative damage generated during normal metabolism.* Vitamin C is also necessary for the production of collagen and is therefore important for skin, bone, and joint health.* This product includes Bioflavonoids, which work synergistically to support Vitamin C utilization.* Natural color variation may occur in this product. Click here to stock up on Now Supplements, Vitamin C-1,000 with 100 mg of Bioflavonoids, Antioxidant Protection*, 500 Veg Capsules for only $14.39! That's a savings of $13.81!
NOW offers you this yearly supply of vegetarian/vegan Vitamin C-1000 in a convenient easy to swallow capsule! Did you know Vitamin C is essential for the production of collagen?* Vitamin C is important for skin, bone, and joint health as well as for supporting the immune system.*

One capsule a day packed with vitamin C gives you antioxidant protection and 100 mg of bioflavonoids to support your immune system.*

Non-GMO, Kosher, Soy Free, Dairy Free, Egg Free, Sugar Free, Nut Free, Low Sodium, Made Without Gluten, Vegetarian/Vegan

GMP Quality Assured: NOW closely adheres to both mandatory U.S. FDA Current Good Manufacturing Practices (CGMP) regulations and voluntary Natural Products Association (NPA) Good Manufacturing Practices (GMP) regulations. Good manufacturing practices ensure compliance with sanitation, processing, documentation, and testing requirements that are designed to promote consistent, highly reproducible product quality and safety.

Packaged in the USA by a family owned and operated company since 1968
Remember, Amazon prices can change at any time.
This post contains affiliate links.