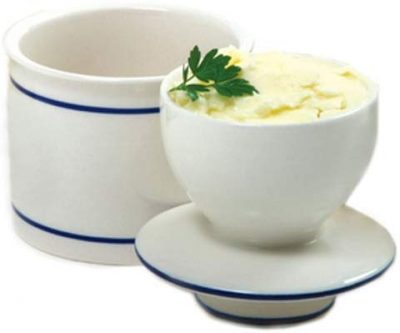 Butter stored in the fridge tastes like leftovers and tears up your toast, while butter stored on the counter spreads easily but goes rancid in days. What to do? Norpro has the answer. Simply pack the Norpro Butter Keeper's inverted lid with softened butter, put an inch or so of cool water in the base, and invert the lid on top. Water makes an airtight seal between lid and base, keeping butter soft, sweet, and spreadable for up to 30 days without refrigeration. (You'll need to replace the water every few days.) Right now, get the Norpro Glazed Stoneware Butter Keeper for only $5.70!
Measures 3.5″ / 9cm in diameter and stands 4″ / 10cm tall.

A butter lover's dream! Once you start using this Butter Keeper, you won't settle for hard butter again!

Holding up to 1 stick of butter, the water in the base seals out air to keep the butter soft, sweet and spreadable for up to 30 days – without refrigeration!

Simply pour approximately 1/2″ / 1.25cm of water in the basin, fill the top of the butter keeper with butter, turn it upside down so the water is covering the top of the butter, and PRESTO! Soft, sweet, spreadable butter that stays fresh. (Water should be changed every 2-3 days).

Made of attractive glazed stoneware. Attractive enough for your table or counter top!
Remember, Amazon prices can change at any time.
This post contains affiliate links.