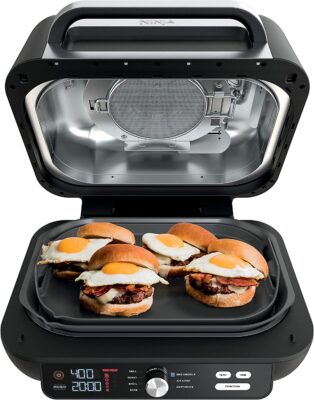 Ninja's most powerful and versatile grill with up to 12′ off edge to edge grilling space! Unlock more indoors with the 7-in-1 functionality: Grill, BBQ Griddle, Air Crisp, Roast, Bake, Broil, and Dehydrate! Get the Ninja IG601 Foodi XL 7-in-1 Indoor Grill Combo, use Opened or Closed, Air Fry, Dehydrate & More, Pro Power Grate, Flat Top Griddle, Crisper, Black, 4 Quarts for only $157.99 today!
NINJA FOODI XL PRO GRIDDLE & GRILL: The XL Pro grill & griddle that sears, sizzles, and crisps. Indoor Grill, Griddle, and Air Fryer.

NINJA'S MOST POWERFUL GRILL*: 500F independently powered grill grate creates direct, edge-to-edge high-heat searing for better char-grilled results**. (*Based on grill grate's direct heating element **Versus FG500-series grills.)

12" BBQ GRIDDLE: flat top bbq griddle cooks foods grills can't and interlocks with the grate to harness its direct high heat. Precise temperature controls allow for fast, even cooking without hot or cold spots.

HOOD UP OR HOOD DOWN COOKING: Keep the hood down to add cyclonic air for fast, even, high-heat cooking, surround searing, crisping, and melting. Keep the hood up for intense high heat searing and flavors with direct bottom heat only.

UP TO 75% LESS FAT*: Air fry crisp with up to 75% less fat than deep frying (*tested against hand-cut, deep-fried French fries), using the included 4-qt crisper basket.

7 COOKING FUNCTIONS: Grill, BBQ Griddle, Air Crisp, Roast, Bake, Broil and Dehydrate functions enabled by the wide temperature range.

XL FAMILY-SIZED CAPACITY: Grill grate fits 6 steaks, mains, and sides at the same time, and more. Flat top BBQ griddle allows you to cook a whole platter of nachos, 4 sandwiches, or 6 pancakes.
This post contains affiliate links.