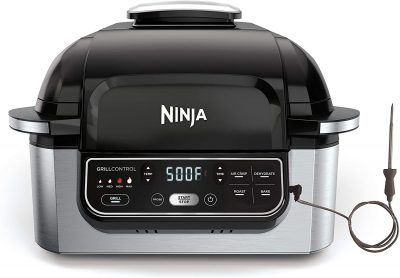 Simplify your cooking routine with Today's Deal! Meet the Ninja Foodi Pro Indoor Grill with Integrated Smart Probe. The grill that sears, sizzles, and air fry crisps. The Integrated Smart Temperature Probe lets you confidently cook food to perfection on the inside and char-grill every side with super hot 500F Cyclonic Grilling Technology, virtually smoke-free. It's also an air fry crisper, allowing you to enjoy guilt-free fried food. Today only, get the Ninja Foodi Pro 5-in-1 Integrated Smart Probe and Cyclonic Technology Indoor Grill, Air Fryer, Roast, Bake, Dehydrate (AG400), 10″ X 10″, Black and Silver for only $159.99. That's a savings of $110!
The Ninja foodi Pro grill with integrated SMART probe. The grill that sears, sizzles, and air fry crisps. Indoor grill and air fryer

Confidently cook food on the inside using the integrated smart probe and char-grill every side with superhot Cyclonic grilling technology. 500F air circulates around food for amazing Surround searing, while the 500F high-density grill grate creates char-grilled marks and flavors

Perfect char-grilled results with GrillControl settings: Low, Medium, High, and Max. The wide temperature range of 105F500F and variable fan speed enable 5 fast, versatile cooking functions: Grill, Air Crisp, Dehydrate, Roast, and Bake

Air fry crisp with up to 75% less fat than deep frying (tested against hand-cut, deep-fried French fries), using the included 4-quart crisper basket

No need to cut into foods or constantly probe them like when using an instant read thermometer. Eliminate guesswork and never worry about under or overcooking with the integrated smart probe. Multi-task with peace of mind as food cooks to perfection

Intuitive digital display lets you easily choose a cooking function and see your food's internal temperature As the integrated smart probe monitors It. The grill will conveniently alert you when your food is perfectly cooked

Virtually smoke Free with unique smoke control technology. The combination of a temperature-controlled grill grate, splatter shield, and cool-air zone reduces smoke, keeping it out of the kitchen
This post contains affiliate links.