Get an extra 25% off online clearance shoes and apparel with Nike coupon code DOMINATE. Expires Dec, 2, 2014. There are more than 2,500 clearance items for men, women, boys, and girls. JUST DO IT!
Some of the Nike deals I spotted
I love these fiery sneaks for men for $99 (orig. $125) and with the 25% off coupon that brings it to $74.
These running shorts are $49 (orig. $50) and with the coupon just $22.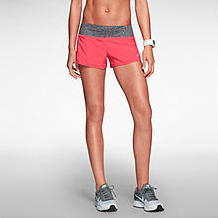 I also saw boys' shoes, shorts, zip up jackets, tops, cleats, pants, and backpacks on clearance, which makes them eligible for the extra 25% off coupon.
For girls, I saw cleats, tops, shorts, sneakers, socks, backpacks, zip up hoodies, iphone cases, shin guard, jerseys, and more.
The men's sale included sneakers, compression tights and shorts, tops, zip ups, socks, shorts, tank tops, running tights,  and a lot of gear.