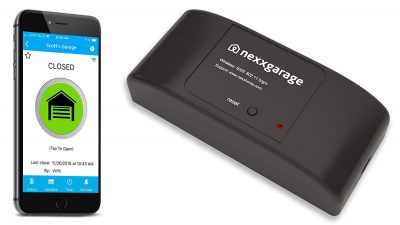 Nexx Smart Garage Controller is a companion device to most existing garage door openers and allows one or more users to securely open, close, and monitor their garage door from anywhere in the world.  This smart device will allow you to control your garage door with your smartphone, Alexa and Google Assistant devices, or just driving your car. NO HIDDEN MONTHLY FEES! NO HUB REQUIRED! Click here for the NEXX Garage NXG-100b Smart WiFi Remotely Control Existing Garage Opener with App, only $69.99 today. 
CONVENIENTLY OPEN AND CLOSE your garage door by turning your existing Wi-Fi network and garage door opener into a single integrated smart device that you can control and monitor from anywhere.

ACTIVATE YOUR GARAGE DOOR OPENER BY TAPPING on the Nexx mobile app, or by giving voice commands to your Alexa or Google Assistant devices, or soon, by driving near your garage door (this feature is in beta release).

MULTI-USER ACCESS & REMOTE MONITORING. You can authorize multiple people to access your garage, you can open and close the door if a guest arrives and you're away, and you can receive notifications if you forget to close the door.

NEXX REQUIRES a 2. 4 GHZ WIFI CONNECTION and offers quick and easy installation without the need for a professional. It is compatible with almost all garage door openers (check site for compatible openers).

BEST IN CLASS SECURITY ENCRYPTION: reliable and secure with real-time activity logging; and only one controller per garage door opener, you can easily monitor activity.

NO HIDDEN MONTHLY FEES!

NO HUB REQUIRED!
This post contains affiliate links.