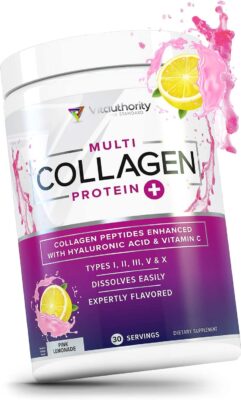 New Year, New You: Save on Todays Wellness Picks!
Simply add our Multi Collagen Peptides powder to any flavored drink or food and start looking and feeling younger thanks to the age reversing benefits of Multi Collagen! Every scoop of Multi Collagen + is fortified with 5 types of collagen and Hyaluronic Acid & Vitamin C.
Hyaluronic acid is the perfect addition to maximize the youthful skin and joint benefits from our Multi Collagen Protein. Roughly half of the hyaluronic acid in your body is present in your skin, where it binds to water to help retain moisture which improves skin elasticity and reduces wrinkles.*
A key ingredient for synthesizing collagen in the body, Vitamin C makes our multi collagen complex even more potent. Skin fibroblasts depend on vitamin C for the synthesis of collagen, and also for the regulation of the collagen/elastin balance.* Get this Multi Collagen Peptides Plus Hyaluronic Acid and Vitamin C Hydrolyzed Collagen Proteins Types I II III V and X Pink Lemonade Flavor for only $25.99!
5 Types of Collagen; Each serving contains Types I, II, III, V and X Collagen plus Hyaluronic Acid & Vitamin C. Free of any Gluten, Soy, Dairy or GMO's.

Agglomerated Peptides; Multi Collagen Protein Plus features an industry first agglomerated collagen peptides, which dissolve INSTANTLY in ANY liquid (hot or cold).

4 All Natural Sources; Sustainably sourced Grass-fed bovine beef, farm raised chicken, wild caught marine and eggshell.

Glowing Skin; Types I, III & V Collagen have been shown to help reduce wrinkles while supporting skin elasticity and hydration.

Joint and Bone Health; Types II & X Collagen support bones, tendons and connective tissue for healthier, pain free joints.
This post contains affiliate links.