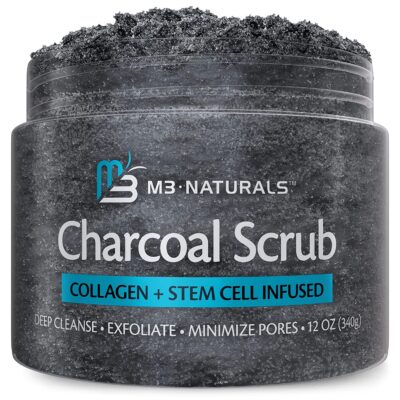 New Year, New You: Beauty Haul!
Apply a layer of the scrub to damp skin with a circular scrubbing motion. If desired, use a body brush to increase the scrubbing effects and to increase stimulation. Rinse off completely. Can be used on face and body. Get this Charcoal Exfoliating Body Scrub Polish with Collagen & Stem Cell Gentle Body Exfoliator Face Scrub Bump Eraser Booty Scrub Best Shower Scrub Skin Exfoliant for Men & Women Polish by M3 Naturals for only $15.63 when you clip the $3 coupon. 
M3 Naturals Activated Charcoal Body Polish Scrub provides a quality exfoliating experience as a body scrub, face scrub, hand scrub, or foot scrub! Working together, our natural charcoal granules and coconut oil will help restore your natural skin glow and wash away those unwanted toxins and dead skin cells!

Infused with Collagen and Stem Cell our moisturizing charcoal scrub will take your skin care routine to the next level by boosting natural collagen production and increasing skin cell longevity. A truly powerful combination that delivers unmatched anti-aging skincare results! *

Help Reduce Skin Blemishes – Whether you choose to use our natural charcoal as a face scrub or body exfoliator our unique ingredients will help to reduce the appearance of acne, cellulite, wrinkles, fine lines, dark spots, stretch marks, varicose veins, spider veins and so much more! *

Spa Quality Results for Men and Women: Cleanse your skin naturally and scrub away those unwanted toxins from your pores while balancing systemic pH. A top-quality pore minimizer that cleans and restores your natural skin glow and continues working to maintain its silky-smooth results! *

Made in the USA: M3 Naturals is proud to provide men and women beauty products with the highest quality ingredients that are not only cruelty-free but made right here in the United States of America. *
This post contains affiliate links.