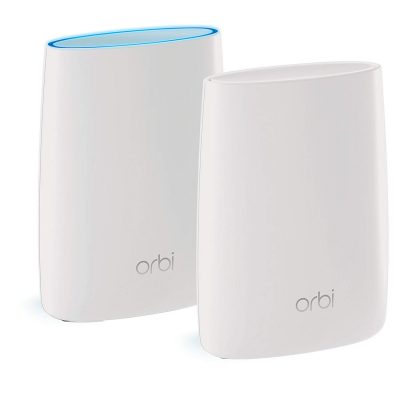 Bring Fast, Secure, and reliable Internet to your entire family with the Netgear Orbi home Wi-Fi System. No more Wi-Fi boosters or extenders necessary. The Orbi Wi-Fi router and Satellite extend high Performance Wi-Fi to your property from the basement to the backyard. The system Smartly manages your Wi-Fi so that each device's access is optimized and never interrupted. The Netgear RBK50-100NAR Orbi Home Mesh Wi-Fi System (Certified Refurbished) is only $179.99 today only!
This Certified Refurbished product is tested and certified to look and work like new. The refurbishing process includes functionality testing, basic cleaning, inspection, and repackaging. The product ships with all relevant accessories, a minimum 90-day warranty, and may arrive in a generic box. Only select sellers who maintain a high performance bar may offer Certified Refurbished products on Amazon.com

Ultra-performance Mesh WiFi network blankets every inch of your home in super fast and seamless WiFi connectivity – room to room, wall to wall, floor to floor

Eliminates WiFi dead zones and buffering – 5,000 square feet of consistent coverage – with speeds up to 30 Gbps.

Maintains speed even as more devices use your WiFi at the same time, thanks to patented tri-band technology.

Simple setup with the Orbi app – create guest network, access parental controls, perform speed tests, and more right from the appRefer to the PDF attached below in Technical Specification for Manuals.

NETGEAR Armor – Built-in anti-virus and data theft protection for ALL of your smartphones and computers. Protects your connected home from internet threats. 90-days free trial included.
This post contains affiliate links.