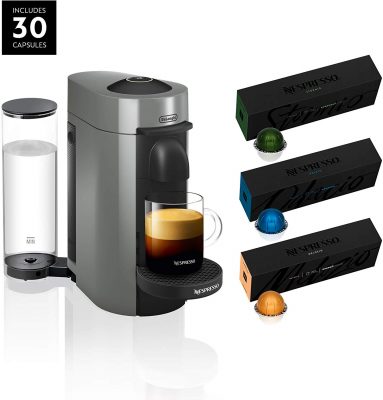 VertuoPlus uses an intelligent extraction system that recognizes each capsule, thanks to a barcode on the rim of the capsule. This means that each capsule's brewing parameters are adjusted by the machine depending on the selected Grand Cru. There is no need to change settings for the best in-cup result for your chosen blend – all at the touch of a button. Today only, get the Nespresso VertuoPlus Coffee and Espresso Machine Bundle by De'Longhi for only $99.99.
AUTOMATIC COFFEE/ESPRESSO MAKER: Nespresso VertuoPlus offers the latest innovation from Nespresso with an all-new design and colors to complete the perfect single-serve Coffee or Espresso cup experience. Designed for Nespresso capsules only.

SMART COFFEE MAKER: Brew the perfect single-serve Coffee or Espresso drink time after time, thanks to Nespresso's technology using barcodes to deliver the best in-cup results including the perfect crema for large Coffee cup sizes. Simply insert the capsule and enjoy freshly brewed Coffee or authentic Espresso.

COMPLIMENTARY GIFT: Each machine includes a welcome kit with a range of Vertuo capsules with unique aroma profiles. Cable Length- 29.13 Inches. Power rating (in watts)- 1300 Watt

BEST SELLER ASSORTMENT: A variety of 3 best-selling coffee blends for the Nespresso VertuoLine System

CONTENTS: Nespresso VertuoPlus Machine by De'Longhi – AND BEST SELLING COFFEES- 30 Capsules: 10 Stormio, 10 Odacio, 10 Melozio
This post contains affiliate links.