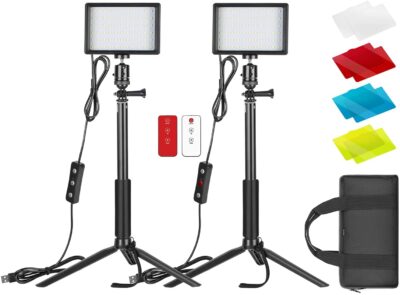 Save on Neewer Ringlight Flashes today! Enhance your image with this LED lighting kit from Neewer. The lighting kit delivers flicker-free white light to light up your face—the ideal lighting solution for online conferencing. Get this Neewer Dimmable 5600K USB LED Video Light 2-Pack with Remote Control,Tripod Stand,Color Filters and Bag for Tabletop/Low-Angle Shooting,Zoom/Video Conference Lighting/Gaming Live/YouTube/Photography for only $39.99. 
Video Call Lighting: Get soft and even lighting on a video call with this tabletop lighting kit. Two dedicated 433MHz remotes allows you to adjust brightness (10%–100%) from up to 49'/15m. The red remote controls the light with red power button and the white remote controls the light with white power button. Ideal for Zoom meetings, Skype calls, YouTube streaming, and more

USB-Powered Light: Keep the LED light powered via a USB wall charger (5V 2A) or USB power strip. For continuous long-time use, avoid powering the light with a laptop, tablet or power bank in case of fast battery drain and insufficient power output

Optional Color Filters: Included 8 filters with 4 colors (white, yellow, blue, red) give you the flexibility to create colorful lighting effects for game live streaming and more

Foldable & Extendable Tripod: With a minimum height of 8.85"/22.5cm, the mini tripod can be directly mounted to the panel light to offer an ultra-low position lighting. It is easy to set up and fold down. The height can be adjusted from 8.86" to 45.67" (22.5cm to 116cm) when using with the extension rod

Package Contents: Neewer LED Panel Light with USB Cable 2-Pack, Two Mini Tripods, Two Extension Rods, Two 433MHz Remote Controls, Two White Filters, Two Yellow Filters, Two Blue Filters, Two Red Filters, One Bag
This post contains affiliate links.