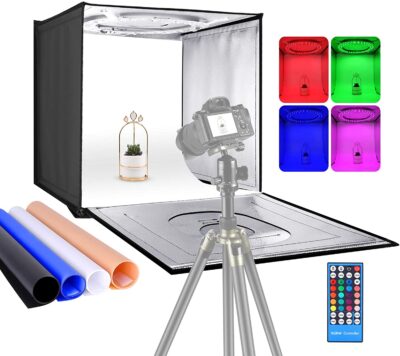 Ready to up your photography game? Click here to save on Neewer Ringlight Flashes! This is a photo lighting studio committed to providing a professional and portable lighting box for professional and amateur photographers, professional photography, commercial photography, indoor/outdoor photography, photo studio, video studio etc. Get the Neewer Photo Studio RGBW Light Box with Infrared Remote Control, Foldable Table Top 24 inches/60cm Shooting Tent with 96 RGBW LEDs/Adjustable 2-40W/6000K-6500K/4 Colors Backdrops for only $95.61.
RGBW and Infrared Remote Control: one light panel included; made of 96 pcs RGBW LED beads; CRI 90+(white), 6000K-6500K color temperature; Comes with an Infrared Remote Control to help you freely adjust RGBW light color, strobe, jump, gradual color change and the corresponding 100-level speed/brightness

Premium Shooting Tent: The shooting tent inside adopts silver reflective fabric, which diffuses light evenly, effectively increases the brightness. And it covers a layer of zero-texture durable coating, wrinkle-resistant, waterproof, and easy to clean. When shooting some easily-reflective items, you can put the lens through the cloth opening and extend into the studio to shoot, which can effectively eliminate the reflective spots and the photographer's reflection

Multiple Shooting Angle & Power Source: Multiple opening and closing ways (a front horizontal shooting window and a top vertical shooting window) enable to choose the desired angle based on the size of the objects being photographed; perfectly presenting the multi-angle features of the product. It is powered by power adapter included. Extra-long 3.8M cable length provides more convenience when in use

Diffuser and 4 Backdrops: Attached diffuser cloth can effectively soft light, reduce highlights and shadows; 4 backgrounds (black, white, blue, orange) are easy to set different studio scene and save PS processing so it is a perfect solution for taking commercial photos

Foldable & Portable As a Carry Bag: Kit includes: (1)24x24x24 Inches Shooting Tent; (1)LED Light Panel; (1)Power Adapter with US Plug; (1)Diffuser Cloth; (4)Backgrounds (Black, White, Blue, Orange); (1)Infrared Remote Control; (1)Manual; Foldable and portable design makes it easily set up and carry as a carry bag, making mobile lighting studio possible. It is very suitable for professional photography, commercial photography, indoor/outdoor photography, photo studio, video studio, etc
This post contains affiliate links.