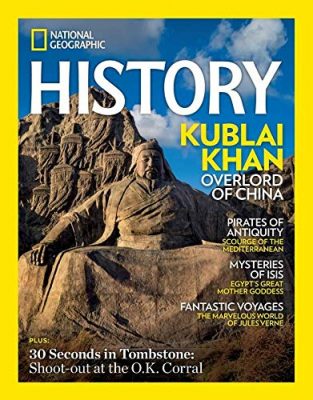 See how National Geographic History magazine inflames and quenches the curiosity of history buffs and informs and entertains anyone who appreciates that the truth indeed is stranger than fiction with a digital subscription today. And that history is not just about our forebears. It's about us. It's about you. Today only, get the National Geographic History Kindle Edition for only $9!
This subscription comes with a risk-free 28-day FREE period after which the subscription starts. Learn more about subscriptions.
This subscription will automatically renew until you decide to cancel. For subscriptions with terms of 6 months or longer, or where otherwise required by law, Amazon will send you a renewal notice via email before your subscription expires and notify you of the rate at which your subscription will renew. Amazon will renew on your behalf at the lowest renewal rate then available to Amazon.com customers at the time of renewal. We will send you a notification if the renewal price changes. You may change your credit card, address information or cancel your subscription before the renewal order is placed. Learn more about auto-renewal.
This post contains affiliate links.