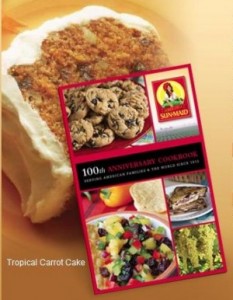 Free Sun-Maid 100th Anniversary Cookbook — You can order this jam-packed recipe booklet by clicking here and completing the linked form. (You can request the booklet mailed to you, or simply download a digital copy). This booklet contains all of Sun-Maid's most popular recipes over the last 100 years!
Free Pencil Desk Organizer from Home Depot — Sign up for the free Pencil Desk Organizer Event at Home Depot on September 3rd. Click here for the details.
Free Logitech HD Webcam at Microcenter — Microcenter is giving away a Logitech HD Webcam C615; simply fill out this form while supplies last.
Free Confetti Bundtlet at Nothing Bundt Cakes on September 1 — Be one of the first 250 visitors to Nothing Bundt Cakes this Thursday, September 1st and receive a free Confetti Bundlet! Click here for the details. 
This post contains affiliate links.