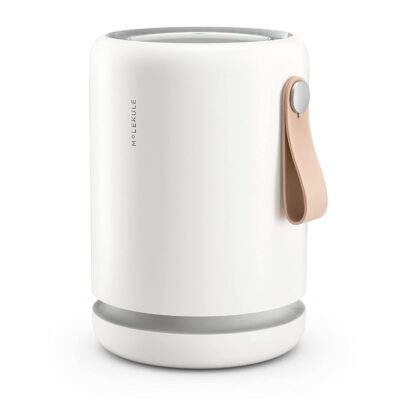 Molekule Air Mini+ air purifier is FDA-cleared for medical use to destroy viruses and bacteria. This 510(k) Class II medical device features a 360-degree air intake that replaces the air in a 250-square-foot room. It's designed to sit on an elevated surface like a table or counter and pull in particles from all sides. The device uses a patented PECO-Filter, which is coated with a proprietary catalyst and breaks down viruses & bacteria at a molecular level when activated by light. It also traps 95% of particles 0.3-1 micron in size like mold & pollen allergens. Please run your Molekule air purifier consistently for 24-48 hours to allow the device to break down any contaminants that may have settled within the device and on the PECO-Filter, and reach its full efficacy. Click here for the Molekule – Air Mini+ – FDA-Cleared Medical Air Purifier with Particle Sensor and PECO Technology for Smoke, Allergens, Pollutants, Viruses, Bacteria, and Mold- 250 sq. ft., only $399.99 for a limited time. 
FDA-cleared to destroy viruses: Molekule Air Mini+ is FDA-cleared as a 510(k) Class II medical device to destroy viruses & bacteria, and trap 95% of particles 0.3-1 micron in size

Made for smaller spaces: designed for smaller spaces up to 250 sq. ft. like studio apartments, kids' bedrooms & home offices

PECO-powered: Uses Photo Electrochemical Oxidation (PECO) nanotechnology to destroy viruses, allergens, bacteria, mold, chemicals & more

Auto Protect mode: Delivers particle protection by auto-adjusting fan speed based on the sensor. Auto Protect is designed for non-medical use. For home-or-commercial healthcare use, Mini+ should be used on fan speed 3 or higher

PECO-Filter status indicator: Easily track the replacement schedule for your PECO-Filter

Ready to purify: Comes with a 6-month filter. Automatic filter refills available. See manufacturer's website

Whisper quiet: With a 39-decibel Silent Mode, Air Mini+ is sonically unobtrusive
Remember, Amazon prices can change at any time.
This post contains affiliate links.