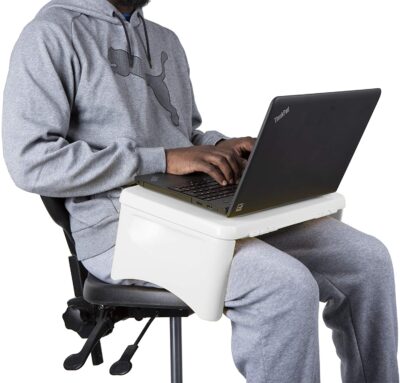 Lap Desk with Extra Storage Unlike other lap desks, The Mind Reader Lap Desk Stand comes with an extra secret storage compartment that allows you to store school/office supplies and accessories. Once you lift the lap desk lid, you will find 3 compartments that allow you to stash anything you can think of. 1 Large compartment in the middle, that is suitable for paper and small notebooks, and two same sized side compartments for smaller items like pens, pencils, paperclips and more. Space Saving Design; Folds Flat The Mind Reader Lap Desk Laptop Stand, folds into a compact size that allows you to easily take this stand with you on the go. Great for traveling on business trips or in the morning on your way to work and you are working towards finishing a project for your deadline. Get the Mind Reader LAPSTOR-WHT Folding Lap, Portable Laptop Desk, Breakfast, Bed Table, Serving Tray with Extra Storage Space for Books, Files, Docs, School Supplies and More, for Kids, Adults, White, only $12.99 for a limited time!
All-Purpose Stand – It can be used as a laptop stand, travel desk, breakfast table, bed tray, bed table, book stand, and gaming desk, beach table, portable office desk, lap tray for food, kids study desk, laptop desk, study table, workstation, standing desk, childrens desk, kids lap desk, writing desk, laptop folding table, and much more.

Laptop Stand – An excellent lap top stand for you or your children. Laptop stand legs open up and comfortably sit over your lap while you use your laptop for work or school. The stand has a space for pencils, pens erasers, and other small office / school supplies.

Lap Desk – Sit over your legs and use this stand as a lap desk. Place your school or office work on top of the stand and conveniently get your work done on your couch or your bed with this all-purpose lapdesk. Use this in on the bus, the train, or in the backseat of the car as this stand sits perfectly on your lap.

Breakfast Table – Use this stand as a breakfast table. Excellent for those who are sick in bed or are not feeling well enough to get out of bed. Ideal for nursing homes or hospitals who need serving trays for their sick patients.

Dimensions: 12 (L) x 17. 5 (W) x 7. 5 (H)

Serving Tray – Useful for serving purposes, fold the legs or keep them open while you serve breakfast, lunch, dinner, or drinks for your guest. Ergonomic side handles allow you to perfectly navigate through parties or your home while keeping the tray straight and aligned with your body.

Side Handles – Built in ergonomic handles on the side of the lap desk for easy transporting. Two side handles allow you to serve your guest with ease. They also allow you to get up and out of bed easier while moving the desk off your lap. A great portable desk that is designed to make your life easier.
Remember, Amazon prices can change at any time.
This post contains affiliate links.